A1Essays Review [Score: 6.5/10]
The service claims to be a community of professional writers who offer academic and business writing services. Judging by the main page it is safe to say that they specialize in research and term papers, although the name of the company focuses on the essays.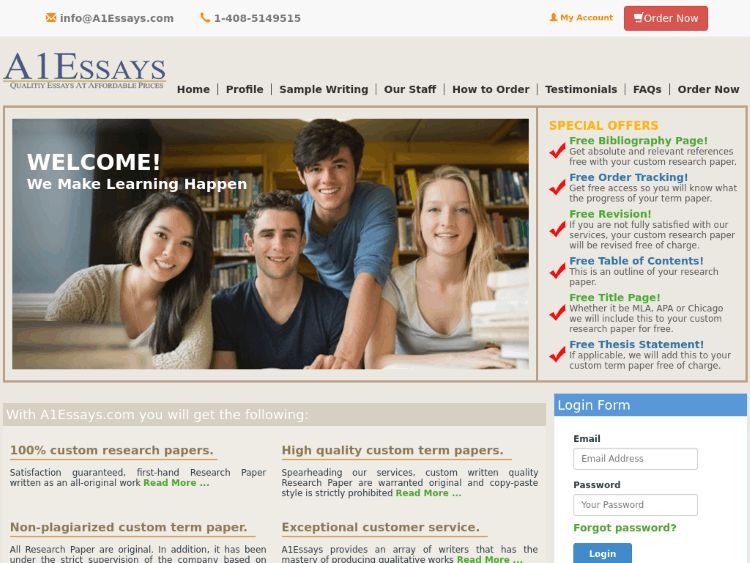 Services
The design seems to be a bit outdated. The website is broken down into many smaller pieces with all kinds of information about the service. On the right side of the screen, you will see the "Special Offers" section with points like free bibliography page, free revision, free title page, etc. If you think that these points do not seem to be that special, you are right. Almost all the writing services have the same conditions.
Apart from the academic writing, the company also provides new business writing services. It means that you can turn to it if you have a fresh startup and need to support it digitally. The experts will help you with writing social media posts, a blog on the official website, and other kinds of web content creation.
There is no information on pricing on the main page which is quite puzzling. The question of how much will your paper cost is one of the most important ones you want to get an answer to right away. A1essays.com offers a wide range of delivery modes from 8 hours to 30 days (for theses and dissertations). You can also check what business writing services the company can help you with – blog writing, web content writing, etc.
Secure Payment
The payment options are the same as everywhere else – Visa, Mastercard, PayPal, Discover card, American Express. The service does not provide clients with any information on the security of making payments. No anti-virus programs or other protection matters were detected in the process of writing this review.
Pricing
As always, let's check the price for the most popular order – a college essay that consists of 2 pages and has a deadline of 3 days. Here, it will cost you approximately $31.90 ($15.95 per page). It's an average price on the market of academic writing. The service does not offer any additional features to order. You will have to pay the total cost in advance and then wait for the paper to be delivered to you. They also do not do any accumulative discounts except for a 25% off the price if you enter a valid email during the registration process. One more way to save $10 is to refer a friend
Placing an Order
We will not surprise you with the first step of placing an order. It's registration, of course. You can do it via your Facebook account or by filling out a registration form.
After that, you get to the filling an order form. It's simple and just asks you to indicate as much information as you can on the paper you need.
Here you can enter a discount code if you have any and check the correctness of the information.
Then, you choose a writer. At random, we guess.
The last step is the payment process.
Guarantees
A1essays.com does not give you any information on the guarantees they have. If you go to the FAQ section, you will find out that they have a confidentiality policy and promise to delete your personal information from their database within 48 hours after your order delivery. CAUTION: there is no option of money back or any kind of refunds. The only thing you can do if you don't like the paper is to ask for its revision.
Plagiarism
The service promises to deliver a 100% original paper that will pass Turnitin.com. They state that they delete every paper they deliver within 48 hours. But there are no guarantees they actually do it, unfortunately. It will be a good idea to check the paper you receive with any free or fee-based plagiarism tool to make sure it is original. Do not underestimate the consequences of turning a plagiarized paper. You might lose a reputation as an earnest student and get expelled.
Support
If you got interested in the following web, you are welcome to contact the writing team traditionally by:
If you have an urgent question, it is better to use a live chat option. You will not have to wait to get an answer. We doubt that clients often use an email address to communicate with the support team as it takes a lot of time to finally get the information they need. It most probably is an obligatory thing that every company should have. There is information about the website's blog but no blog itself. It is odd as the company has been around for some time and can afford to have it. There must be  a good reason for that.
Writers
There is a short passage about the writers of this service. We can learn that all of them hold either Bachelor or Masters degrees and write for a living. In other words, all of them are professionals. You can also check the sample papers to understand what level of quality to expect from them. The good news is that there are always several people responsible for the quality. Besides your writer, there will also be an editor and proofreader.